Women's 5K Classic Run
Date: Saturday, October 6, 2018
Program start: 9:15 am
Run, Walk & Pink Ribbon Loop start: 10am simultaneously (Note: Please plan ahead for traffic delays.  We highly recommend that all participants leave home early and plan to be at the event site well before 9am, since enjoying the program is a lot more fun than sitting in traffic.  Unfortunately, we will not be able to postpone program and race start times due to traffic delays.)
Location: Little Lehigh Parkway, Allentown, PA
Packet Pickup: Friday, October 5, 2018 OR on Saturday, October 6, 2018
Run Course Details and Map: The first 1.3 miles will be on the road with very few turns. You will start on a nice flat stretch and then climb out of the parkway on a gradual incline until after the first mile. After your initial climb, your hard work will pay off and the balance of the run will be gently rolling hills and flat to the finish. The entire course will be on paved or hard packed surfaces.  If you start the race in the group corresponding to your race pace, your run will be much more enjoyable. If you plan on running some, but not all of the race, register for the 5K run instead of the Competative Walk.
See the course map, highlighted in GREEN arrows for the 5K run course.
| | | |
| --- | --- | --- |
| FEB 15-MAY 31 | JUNE 1-SEPT 15 | SEPT 16-OCT 6 |
| $30 | $35 | $40 |
In-Spirit – You would like a participant shirt but cannot attend the event. Shirt must be picked up at the expo. Rates according to time frames listed above.
On-Line registration ends September 27, 2018
Last day to change events – September 21, 2018
Long sleeve shirt guaranteed if registered by September 20, 2018.
Expo Registration – $40.00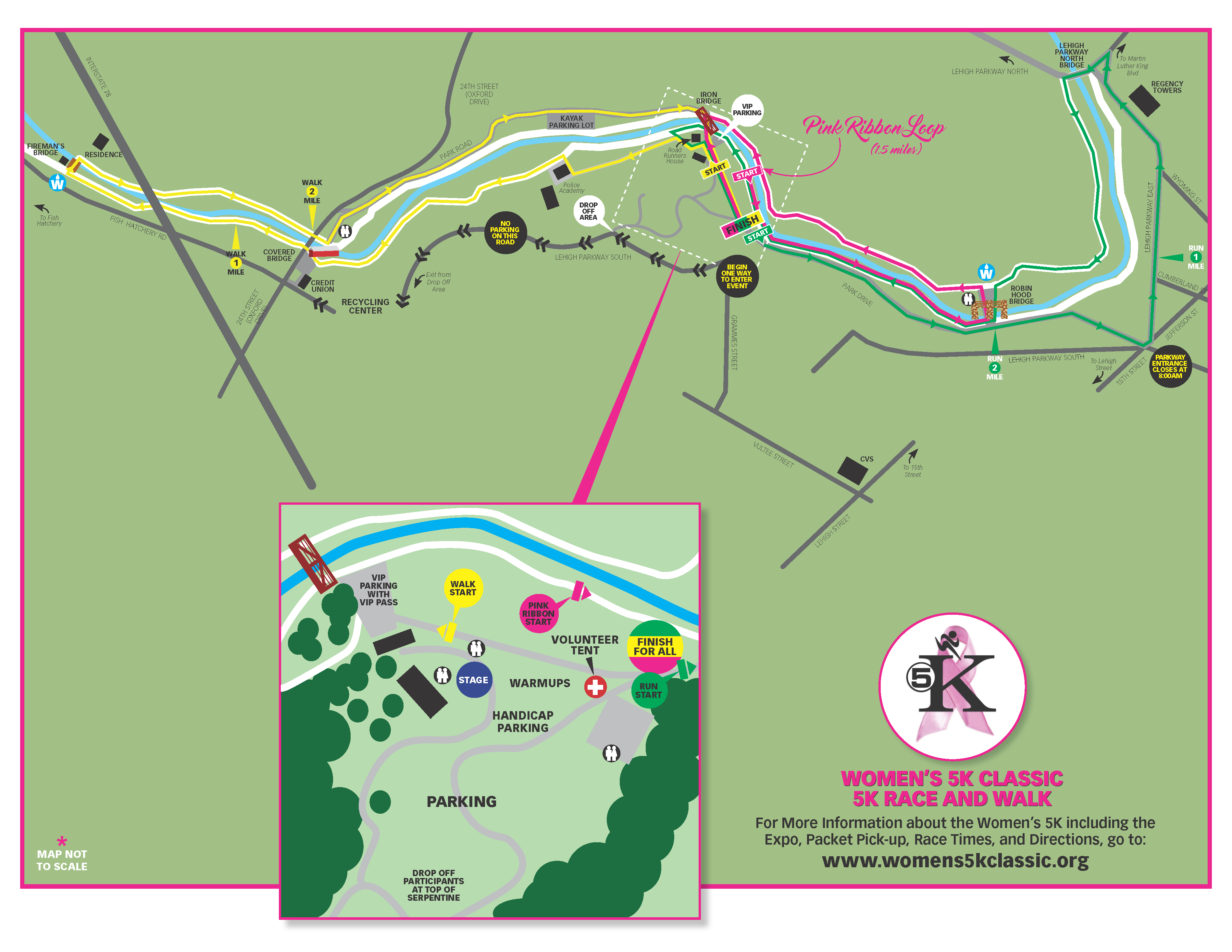 Rules: The event takes place rain or shine. We ask that there are no headphones, skates, strollers or bikes on the course. We also do not allow dogs or pets of any kind. It will be too crowded and we want all participants to have a positive and safe experience. We do have assigned lead bikers for the 5K Run and 5K Competitive Walk. Thank you for being mindful of the other participants and respect of the race personnel to ensure a safe and enjoyable race for everyone.
Awards: Top 10 awards will be based on gun time. Age group awards will be based on tag time. Decisions of race officials are final. Awards will not be duplicated. Please visit this page for listing of awards for which all runners are eligible.
Team Competition: All teams will be eligible for team awards. Our timing source will calculate finish times and the average of the 5 fastest racers will generate a time. The best time will designate our first, second, and third place teams.
Team Spirit Award: Is your team loud and proud to show it?! Are you a big or small group that SHOUTS spirit?! We are recognizing the team that shows the MOST spirit at our event! We challenge you to BE that team!!!